---
How Do I Reactivate/Reverify this product after I've Purchased a full license?
---

<< Return to the Getting Started Menu.


a. If you initially registered for a Trial Version and installed it - and then later on
you purchased the full version - you can run the 'Reactivate/Reverify' Wizard to 'unlock'
your currently installed version (without any reinstallation).

To perform this operation - go to the products 'About Menu' and click on the 'Reactivate'
function (aka . 'Reverify Registration' on Weather 2 and Headlines 2).

NB : This example picture below is for Big Screen Photos 2
- other products may differ in visual appearance.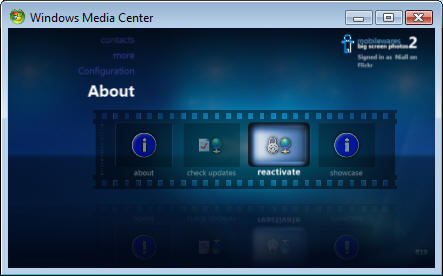 b. You will then be presented with the 'Reverification Wizard (which is similar to
when you first activated the product.)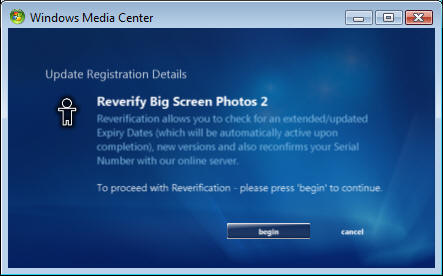 c. Click on the 'begin' button (see above) and download your update license information. (and will display the
'Downloading' page while this is occuring.)

NB: Your Internet Connection Should be Active/Available at this point otherwise
this step will fail. If you receive any Firewall notices - please unblock these
so that this step can complete.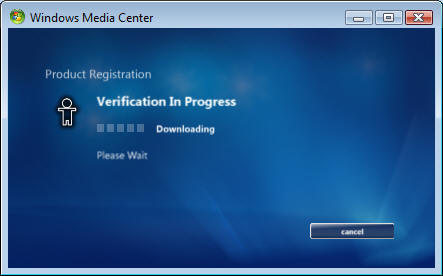 d. Once this Download/Check is complete - a Completion message will indicate
whether the operation completely successfully or not (and inform you of
the status of your license).

NB: If your product has expired / or your Serial Number was invalid - you may
not be able to proceed to the product's Main Menu until you have entered
a valid Serial Number (which has been 'Upsized') or purchased a New One..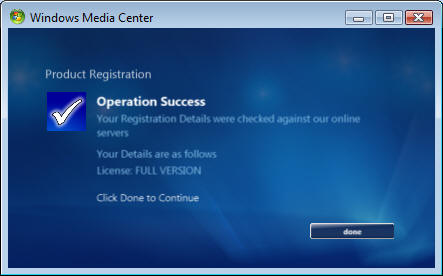 ---
Please visit our online FAQ if you require further assistance - or Contact Us via Email.