---
How Do I Add (and Remove) a Big Screen Product Icon to the Media Center Start Menu?
---

<< Return to the Getting Started Menu.

a. Windows Media Center provides the ability to add a 'single' Icon to the "Online Media"
Start Menu. To add a Big Screen Icon - please Navigate to the program library
- find the desired product's Icon and click the (info) button on your remote -
control (or right mouse button if using a mouse) - and a context menu will popup
as displayed below.

NB: Icon's added to the Online Media Strip are 'Last In Best Dressed' - and since
only a single icon can be added at a time - each time you perform these steps
the previous Icon (on 'Online Media' Start Menu) will be replaced.

Also note that this function is done on a 'per user' basis - so you changes
made on your Media Center machine will not appear on your extender
(and vice versa).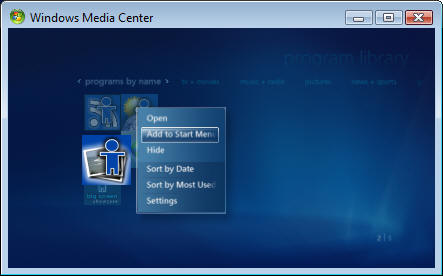 b. When this context menu appears (as above) - click [ok] on the item titled
'Add to Start Menu' and a confirmation dialog will appear. (see below)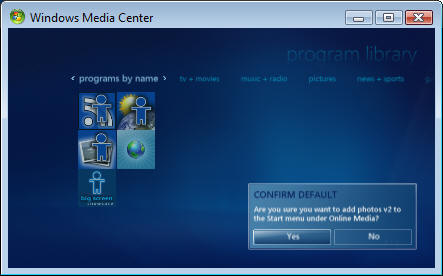 c. Click the 'Yes' option on this confirmation dialog (as above) - and the product
Icon will appear on the "Online Media" strip. (See below)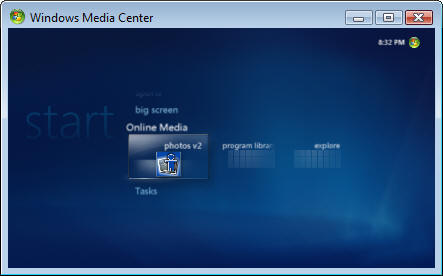 (Optional)
If you'd like to remove the icon from the Start Menu - then repeat step (a-c) - but
note that this time an option will be presented titled - 'Remove from Start Menu'.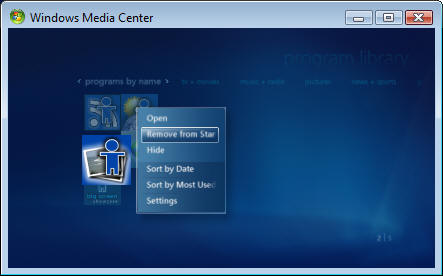 ---
Please visit our online FAQ if you require further assistance - or Contact Us via Email.