---
Add my Yahoo! flickr™ User Account(s) - and access private content from my account (and from my friends/contacts)?
---

<< Return to the Getting Started Menu.




Big Screen Photos 2 allows you to add and directly access private content from your own
Yahoo! Flickr account(s) (which may also include access to private content made available to
you via contacts, friends and familty).

To simplify this process (and provide a way for our product to know what accounts you have granted
permission to - the 'Big Screen Photos v2 - User Consent Tool' is provided. (as a Desktop Tool).

NB: Due to rules + requirements set out by the Yahoo! flickr - designed to protect your identity and
sensitive details (such as your password - which is not submitted, or stored by Big Screen Photos 2) -
this tool involves you logging into your account via your choice of Internet Browser - and confirming
that you will allow Big Screen Photos v2 permission to access your account.



** Also Please Note ** : If using an legacy ('old skool') flickr account (one created prior to flickr being
acquired by Yahoo!) - which have their own username/password which is not linked with a Yahoo! profile -
then some specific functionality may be partially disabled. (such as access to some of your photos or
contacts that are marked as 'private').

This is a known issue/limitation of the Yahoo! flickr API - however
you can use their online tool to rectify this situation - by going to

http://flickr.com/account/associate




(which will allow you to migrate your old account to be linked with a Yahoo! profile).




a. To Get Started - click your Windows Start Menu - and navigate to the
All Programs | Big Screen | Photos 2 program folder and click the 'User Consent Tool' Icon
(as pictured below).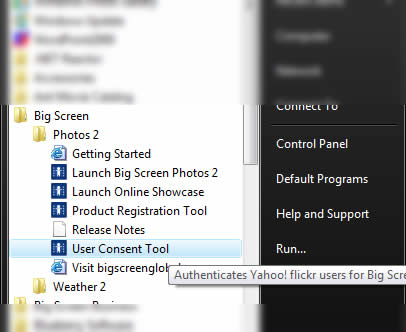 b. If UAC (User Access Control) is enabled on your machine - you will be prompted with the following (see below)
- which will confirm that you 'trust' this program. You will need to 'trust' this program and click 'Allow' to
continue (which will ensure the User Consent Tool can read and write to the necessary Big Screen Photos 2
data files (which are then read in by the addin).

If UAC is disabled on your machine - you will not see this message (and the program will launch immediately).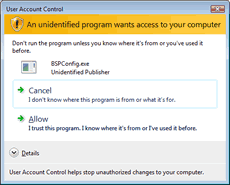 b. Once the 'User Consent Tool' is loaded - you have the ability to Add (and Remove) Yahoo! flickr accounts
from your Big Screen Photos 2 configuration (see below).

NB: this does not alter your online account status in any way.

As you add and remove accounts to you local configuration - they will appear in this list below (and also be made
available via the Big Screen Photos 2 addin within Windows Media Center).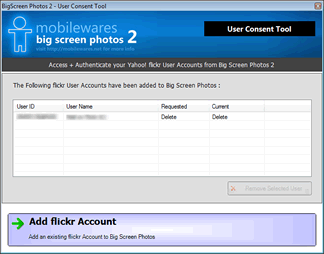 c. To add a new Account - click the 'Add flickr Account' button located at the bottom of the screen. (see
picture above) - and you will be prompted with the following dialog (see below).

You can then locate the Yahoo! flickr user account that you wish to add via 'User Name' /or/ via
Email Address (the one assigned to your online Yahoo! flickr account).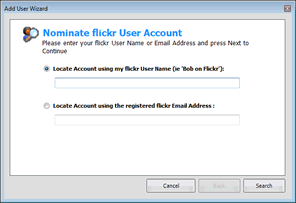 d. Once you've correctly located your account (and nominated the access level) - you will be taken to the
following page - which requires that you to login to your online account (via your web browser) - and
tell Yahoo! flickr that you are providing 'Consent' for Big Screen Photos v2 to access your private content.

NB: If you are logged into a different Yahoo! flickr account (in your browser - via cookies etc) - ensure you
logout before proceeding with the step below. (otherwise your 'consent' will be provided for a different account.)

To Proceed with 'User Consent' - you can either click the 'Launch Browser' button below - or you can simply
copy + paste the URL provided below (and load the browser of your choice).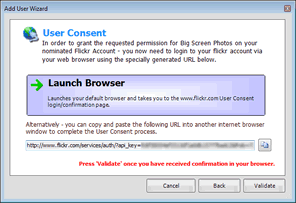 e. After you've completed the 'consent' process in your browser (as per step d) - click the 'Validate' button
to lock this into the Big Screen Photos 2 account list. If you've successfully completed this step - the
account name will be added to the list of account(s) in the User Consent Tool (see below).



NB: You can repeat steps b. to e. and add multiple Yahoo! flickr accounts.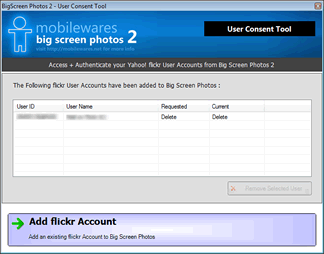 f. When you load Big Screen Photos 2 - an additional Menu Strip will be added - giving you direct
access to your account. The 'Current' UserName is also displayed in the top right of this screen. (see below)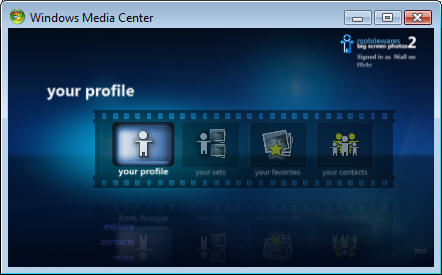 (Optional). If you have nominated more than one user account - you can also use the 'Change User' menu
function (located inside the 'your profile' menu when more than one account is located - see below).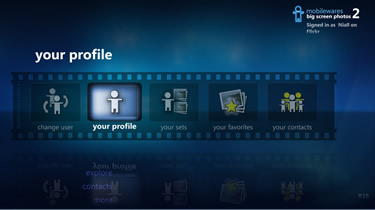 ---
Please visit our online FAQ if you require further assistance - or Contact Us via Email.