---
How Do I Assign Geo-Tag information to my Yahoo! flickr photos (so they appear in the Geo Browser?
---

<< Return to the Getting Started Menu.



"Geo Tagging"

your photos means that you can store information on the exact geographic point your photo was taken.



Big Screen Photos v2 provides the ability to access your Geo Tagged Photos photos from Yahoo! flickr - and view
and browse them onscreen. (see screenshots below).

In order to Geo Tag your photos - this must be done prior to viewing them in Big Screen Photos 2 (as the 10 foot
interface / remote control is not something that would allow the sort of control required to enter this information).

Instead - the Geo Tagging can either be done Online -

- via the Yahoo! flickr online interface (which uses Yahoo! Maps)

/or/ prior to uploading your photo to flickr Online - using a method suggested below.

- via automatic Geo Tagging provided by your mobile phone/device (when used with GPS)

- via 3rd party Photo Management / Geo Tagging software.


Once you've added the Geo Tag information to your online photo's - you'll automatically be able to access this
information when browsing your photo's (and additional functionality will be offered to you online).

See screenshots below for examples of how Geo Tagged photos can be displayed in Big Screen Photos 2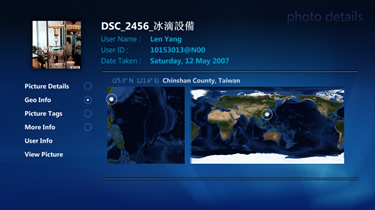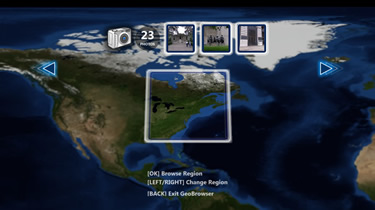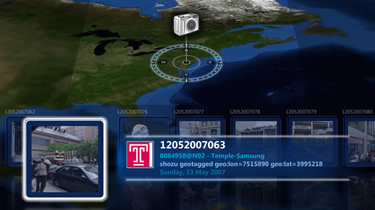 ---
Please visit our online FAQ if you require further assistance - or Contact Us via Email.