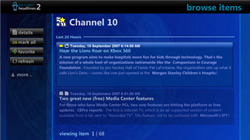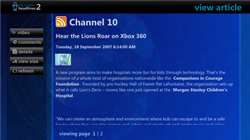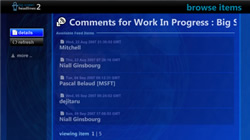 Bring the vast online world of RSS Syndicated content to your Vista Media Center Environment.
With Full Support for Various RSS Specifications (like RSS 0.9, 2.0, Atom, iTunes and more) - access all your favorite feeds at a click of a button.


Browse RSS Feeds from your already synchronized/download IE7 Subscribed feeds system - or on the fly from a vast preset catalog of popular RSS and OPML Feeds.


Using Big Screen Headlines 2 inbuilt converter - read formatted HTML content in Media Center (complete with inline image parsing/support).


Drill down on content such as Comments feeds as well as recognition for multiple content enclosure formats - such as those for video, audio and image formats (and interprets additional information such as the bitrate and length).