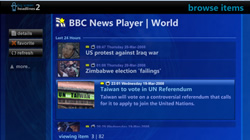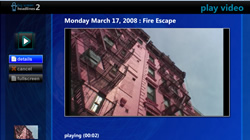 With Extended Support for various RSS Media Extensions (like RSS Media 2, Atom, iTunes, MSN Video and more) - you can watch live streaming Video at the click of a button.
Via the inbuilt presets (and any additional feeds you care to add) - there's non stop viewing entertainment including latest news, sports, entertainment and even complete episodes of tv shows.


Access Video Sharing sites like 'MSN Soapbox' - and watch the most popular clips around (and even directly access your own uploaded videos).


Watch Videos that have been auto-downloaded directly from your harddrive (via the IE7 Subscriber feed System built into Vista).


Big Screen Headlines v2 also scans and recognizes multiple additional video formats - not just IE7 supported enclosures (and interprets additional information such as the bitrate and length) - and if you've got the right codec installed* - you can play all sorts of different formats like MPEG4, H.264, Quicktime, FLV and more. (not just WMV and DVR-MS).


**PLEASE NOTE** : Codec support may be limited by the system you are viewing the media on (and may require additional 3rd party codecs to be installed) - or for extenders will be pre-determined by those provided by the device.